Today, we honor Dr King. His speech on the steps of the Lincoln Memorial in my opinion was one of the greatest of all time. Jesus, with the Sermon on the Mount, President Lincoln at Gettysburg and this speech by Dr King was also one for the record books.
A great speech moves. It moves words and the word moves others to action. It touches the heart and illuminates Truth. I recall reading that some of Dr King's staff tried to help him write his Dream Speech but at the end he ran with what God placed in his heart. Even staff and "handlers" can hinder you from staying on point.
As far as delivery he was as smooth as silk even in a very turbulent time. As a visionary he saw the mountain top even while still walking in the valley. He started off slow like many orators but once he hit his stride he was a Ferrari with no brakes. His remarks were both instructional and intentional. When he reached his climatic finish a frenzy errupted like a volcano but to his credit he knew the message was bigger than the messenger. He espoused hope and not hype and thanks to Heaven and hardwork – he overcame and many others have as well.
As a kid, I recall singing "WE SHALL OVERCOME" in elementary school holding hands with my friends of various skin color. Then and even more now I believe Dr King would be proud. Even greater, I know the Lord is pleased that we are better today than five decades ago. The journey is not over and together we still need to walk en route to the Promised Land as advocates of Truth and agents of grace.
It was a double honor for me to be with Meadowlark Lemon in Fall 2011, in Washington, DC. We reunited and did several events together and walked from the US Capitol to the Lincoln Memorial. Both are precious to me. The monuments and the man – Basketball icon MEADOWLARK LEMON. It is no secret that the US Capitol Building is my favorite and Ruth and I were engaged on the steps of the Lincoln Memorial. The very steps and near same spot that Dr King gave his amazing, anointed addres.
En route to the Lincoln with my childhood hero, Meadowlark and I went to the brand new addition on The Mall erected to Dr Martin Luther King, Jr. Like Dr King, Meadowlark also knew about hardship and faced hurtful insults during the civil rights era. It was an honor to be at the memorial with ML during that moment. Both Martin Luther King & Meadowlark Lemon are larger than life to me and by God's grace they both weathered some storms. Honestly, I felt so out of place to be standing next to two great giants.
I read recently that Walt Disney was fired from a job because they told him he had no imagination. Ironically, when we think of visionary we often think of Disney. Both Martin Luther King, Jr and Walt Disney were dreamers. Don't let anyone tell you to stop dreaming. Some say its dangerous to dream but I believe its worse when we cease to dream. All the "greats" have a dream – what's yours?
"WE HONOR THOSE WHO DREAM. THE NIGHTMARES ARE NOT WORTH REMEMBERING."
Today, I am thankful for Dr King. Grateful for his work and his words. Words are powerful. They can build up or tear down. We may never give a speech with the whole world watching but the world does watch our life and lips daily. May we honor God vertically and bless our fellow man horizontally. Together, a vertical and horizontal line forms the cross and we find no greater love than Christ at Calvary.
Above is the famous "I HAVE A DREAM" speech and as powerful as that is many are unfamiliar or have forgotten the poignancy of his last remarks below. It is on the eve of his death and this was his address before the assassination. Dr King not only saw the mountain top but pointed others there in the process. Leadership not only leads but Lordship dies while leading. Christ paid the price and Dr King helped point the way. Today, as we continue to march on may we not only remember a man who had a way with words but an individual who allowed The Word to have His way with him. As we submit to Christ by faith and find God's forgiveness then we too can clearly sing: "Free at last, free at last. Thank God Almighty we are FREE AT LAST."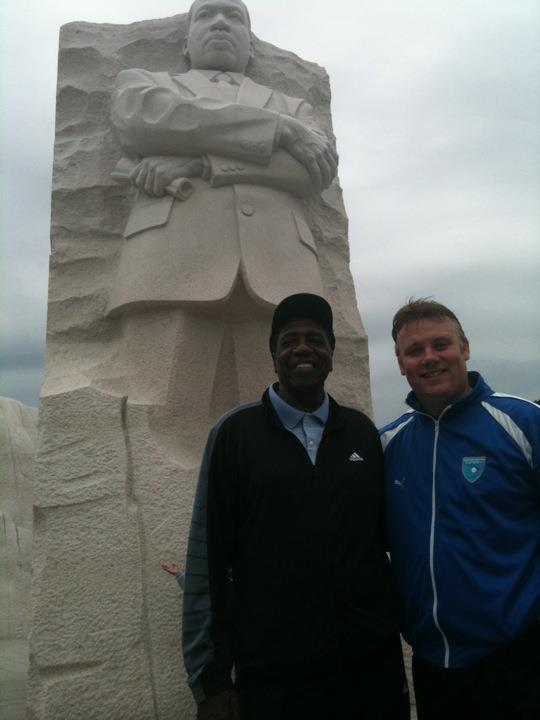 TWITTER @FrankSheltonJr
FrankShelton.org – Corporate Events
FrankShelton.com – Christian/Faith Based