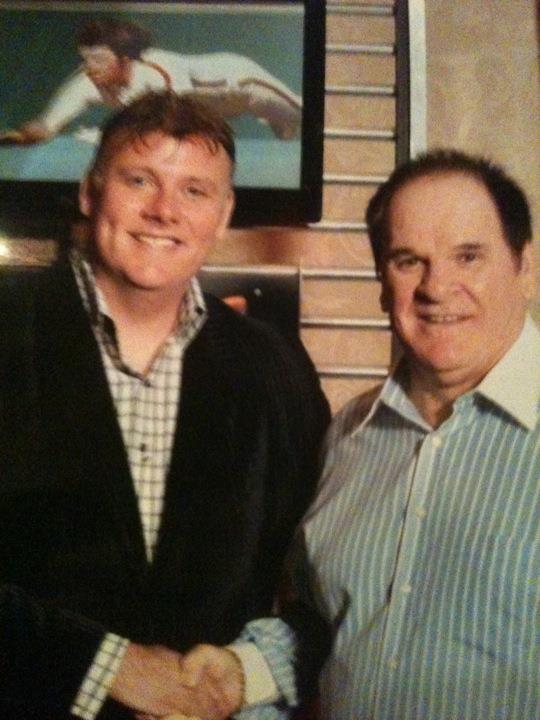 Recently, my good buddy, Jimmy Griggs in Nashville, TN contacted me and asked if I wanted to meet baseball great, PETE ROSE. Without missing a beat I said "sure."
Speaking comes naturally to me but wisdom is found in LISTENING. Boy, am I glad I went and listened. On November 8, 2011, we met at the beautiful Omni hotel in Richmond, VA and it was an amazing two hour ride. Pete shared stories and statistics and what was staggering was not his swagger but his humility. He was still confident but not arrogant. WORD TO WISE: Winners are confident but should never be arrogant.
We can learn so much from others if we just pause long enough, give others the floor and allow them to speak. Over the years, I have been blessed to spend some time with some notable winners but we can glean just as much if not more from learning of another's season of loss. Pete Rose has more hits than anyone to ever pick up a baseball bat. He was a beast at the ballpark and was nicknamed "Charlie Hustle" by the great Mickey Mantle.
He was the epitome of perseverance and the consummate "blue collar" ball player. He said many things that night that resonated with me but one that really hit home for me and I believe a life lesson for us all on this quote: "NO SINCE OPENING THE GATE AT THE BALLPARK IF YOU ARE NOT WILLING TO GIVE YOUR ALL AT THE GAME." He knew firsthand that folks were coming and PAYING for not only a good time but to see great effort. People were paying to see him play at his profession and unless you were willing to give your all you should just stay home.
Another nugget that he shared that night was when he went yard on this statement: "Yes, I had 4,256 hits (the most of anyone) but I wouldn't have got a single hit if it were not for the help of my Uncle who was a scout for the Cinncinnati Reds." He said that contact and timing was priceless. Regardless of your vocation or profession may we never take for granted the rolodex of relationships we have and remember "timing is precious" and we should never waste it.
Pete went on to say: "I would have never made it today in the Big Leagues." This statement really floored me and he really had my attention for what he shared next. He went on to note "the scouts today have tests to guage size, speed and stamina. They track how fast we can run and how far you can hit but their tests fail to record the most important fact. Their tests never pick up on what matters most – HEART & WILL." Pete Rose was named "Charlie Hustle" because he worked harder than almost any other player on the diamond. What he lacked in speed and strength he persevered with heart and hard-work.
Ten times in his career he went an unprecedented 5 for 5 at bat. If you are new to baseball that means he got a base hit on all five times at the plate in that particular game. That is phenomenal when the very best reach base only 3 out of every ten attempts. 73 times in his career he went 4 for 4. Both of them are records to this date. Perhaps just as impressive is that he personally played in SIX World Series and his team won it all three times and lost three times. He made the ALL STAR team are you ready for this……17 times and picked by the fans to play an ALL STAR game in five different positions! That is un-heard of! Pete was not only hardworking and recognized the value of timing but he also had to be flexible. Life comes at us like a fast-ball but throws the elusive curve ball too. At your work, keep in mind that jobs are competitive, "politics" is part of every job and young guns will always be coming from behind eager to prove their merits.
Despite all his accomplishments to this day he is still banned from the Baseball Hall of Fame. What was even more ironic is this iconic player is not even allowed inside the Hall of Fame to tour the exhibits. You and I can buy tickets to view the museum but he is not even allowed on the property. He did share that Babe Ruth's grand-daughter drove clear across New York just miles from the Baseball Hall of Fame when she heard that he was in town selling autographs. What she said next said meant the world to him. She said: "Pete, my grand-daddy would have loved the way you played the game." Immediately, she hugged him and walked back to her car. Without question, we all have made some mistakes and I pray that Cooperstown may reconsider one day. Thank God, Christ restores and redeems regardless of what Major League Baseball elects to do.
On the way out, it was my honor to talk briefly to him. He did the talking that night and I am so glad I listened. We can learn through others wins but listening and learning from other's loses may teach us even more. In life, all of us can relate to winning and losing. Some just won and lost on larger platforms. In closing, he shared that his hero was his father. I could relate to that.
After Pete's talk it was an honor to get a picture with him and shake his hand and thank him for the memories. I told him God loved him and the batting champ took another swing. He signed a baseball for my beloved father and gave me an autographed bat to boot on the way out. That night I came to listen and he came to give. We all win when we listen to others. Thanks to my buddy, Jimmy Griggs for the open door and thanks Mr. Rose for hitting a "Grand Slam" in retirement. When it was easy to get bitter professionally you got better as a person and that night I was the fortunate one to be in your presence. Life ain't over and its always time to "PLAY BALL!"